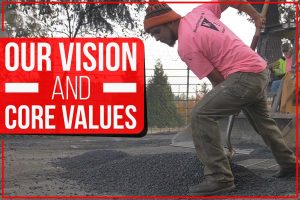 At K&L Industries, we are a family-owned paving company founded on our core values and a commitment to our community. Our determination to better ourselves, our customers, and each other has remained at the center of K&L Industries' vision for over thirty years. We built our company with love and from the ground up—and we bring that same dedication to all our paving projects and team members. Whether we are at the office, at a worksite, or at home, we strive to honor our core values every day.K&L has been in the paving business since 1984, proudly serving the Portland Metropolitan Area, including 
Oregon City
, 
Gresham
, 
Wilsonville
, 
Tualatin
, 
Hillsboro
, 
Beaverton
, 
Tigard
, 
Sherwood
, 
McMinnville
, 
Vancouver, WA
, 
Battle Ground, WA
, and 
Woodburn
, 
OR
. We are your local paving experts!Read on to discover what sets us apart from the competition and why property owners and managers throughout Portland continually choose K&L for quick and painless pavement solutions.
Our Can-do Positive Attitude
Our crew honors its commitments with a positive, can-do attitude; we always show up for the day's work, prepared to do our very best. It makes no difference if it rains unexpectedly or the temperature climbs to a blistering 95 degrees. We simply take out our jackets or pull on our hats—and we remember that we always finish the job, even if it means working harder or getting uncomfortable. With this attitude and work ethic at the forefront, we take care not to intrude on our customers' lives. We provide quick and painless paving solutions every time and without delay!
Our Personal and Situational Awareness
While we strive to inspire and bring each other up, we also look for ways to positively impact our customers and any passerby. We love to interact with others while providing as much value as possible. We will always treat your neighbors, tenants, and clients with that same respect; it doesn't matter if they're not paying customers. The fact is, we are just friendly and empathetic towards the members of our valued community!
We Value Relationships
At K&L Industries, people matter. We embrace all comments, questions, and concerns because they allow us to care for someone else. Our team is family-oriented, and we make a point to keep in touch and nurture our relationships on and off the job site. For many of us, K&L Industries is the most caring family in our lives—and we always show up for each other without fail!
We are Truthful and Transparent
Even though we come to work "to get the job done," we realize that is not enough. Our sense of fulfillment comes from sharing our lives and by taking an active role in our community. And if an error happens, we never cast blame or point fingers; we own up to our mistake, get to work, and bring thoughtful solutions.
We are Purposeful
At K&L Industries, we realize that each of our actions has a result. Therefore, we strive to do everything with positive intent and foresight. We also recognize that our actions directly affect each other and our customers. Our goal is to get 1% better each week—both as individuals and as a unified team.
Quick and Painless Pavement Solutions
When combined, our core values and work ethic provide our customers with quick and painless pavement solutions. Our dedication to always do our very best and our willingness to go that extra mile defines K&L Industries as Portland's industry leader.
This is our cause and our passion: transforming lives, one shovel at a time!
Please call us today at 503-266-1130 or click here to receive a free quote.